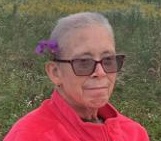 Remembering Cindy…
What Cindy loved most in life: her granddaughters, her dog Molly, her garden and cooking – especially the ritual of making Grandma Kolnick's special bread dumplings. She regularly gave much of her time to volunteer activities to help military personnel and veterans, packing care packages to ship overseas.
Many will remember Cindy through her years of working at Phillips Flowers, where she took phone orders for flower arrangements for almost 35 years, and built up a caring reputation. She celebrated with customers over new births, weddings, birthdays, anniversaries and engagements; and consoled those arranging funerals and memorials. She carefully attended to details for her many repeat corporate clients.
Cindy eagerly looked forward to her camping trips at Warren Dunes State Park in Michigan with her family, and especially with her granddaughters. These family trips started in the 1970s and continued with one final trip in August 2022. She planned out every detail – especially the menus – to make each trip more special than the previous visits. She camped out with family every hot and humid summer, as well as many beautiful autumn seasons, enduring violent Lake Michigan thunderstorms in the summer and almost freezing temperatures in the fall. Nothing stopped her from the annual trip, not dire weather reports, not her discomfort with expressway driving (surface roads made the trip very long!), nor her weakening physical condition in the last years. The whole family has many wonderful memories of idyllic times, cooking together, gathering around the campfire, hiking in the woods, and enjoying the beach. Cindy will be missed and live in the hearts of anyone who had the pleasure of knowing her.
Cindy was the beloved daughter of the late Roy and Helene (Hageman) Kolnick, Loving Mother of Käthe (Bryan) Konczak. Proud grandmother of Rachel and Bryanna. Cherished Sister of Kathy Kolnick, Patty (Bill) Carls, Sue (Rich) Rice, Bob (Debbie), Tracy Arcisz, Marcy Kolnick, and Joe (Laura). Aunt of Bill Carls and Karrie (Bill) Rice; Justin (Diana) and Ian Solarski; Ryan Kolnick and Taryn (Matt) Wagner; Josh, Zach (Brittany), Jessica and Morgan Arcisz; John and Marissa Rohan; and Daniel and Adela Kolnick. Great-aunt of Autumn Rice; Amelia, Lucas and Lillian Solarski; Oliver Wagner; and Sophia Arcisz. Treasured Cousin of Rick (Gayle) and late Ed Mikel, as well as cousin-in-law Sandee Mikel, and two generations of younger Mikel cousins. Favorite Human companion of Molly. Cindy had many friendships with people who cared for her with companionship, support,and transportation, or just checked in on her regularly, in real life and virtually. We know Cindy would thank dear neighbors Richard, Annette and Elaine who showed such concern for Cindy's welfare over the years. Also thanks to all the medical personnel at Duly Medical Group, and especially the hospice attendants who made her last days as comfortable and worry-free as possible. Arrangements for Cindy and her family entrusted to Debbie Zefran Jerry funeral director and friend.
A Memorial Visitation will be held- Friday, November 4, 2022 at 4:00 p.m. until 8:00 p.m.  Celebration of Life Service at 6:00 p.m. Cappetta's West Suburban Funeral Home 39 N. Cass Avenue Westmont IL 60559
630.852.8000 westsuburbanfh.com
If you would like to make a donation in Cindy's memory, please consider these organizations which were close to her heart.
Sarcoma Alliance
Suzanne Renée Leider Assistance Fund
https://sarcomaalliance.org/donate/
Cindy very much appreciated the information and support she received from this organization. She participated in conference talks and online information sessions. This fund provides patients with grants to reimburse the costs related to getting a second opinion consultation with a sarcoma expert – a crucial consideration for a very rare condition.
Gary Sinise Foundation
https://www.garysinisefoundation.org/donate
Cindy did volunteer work to support active duty military and veterans for many years. She was a big fan of Gary Sinise, his foundation and his band – she never missed a local concert and met him at least once.The foundation supports a number of programs for veterans… housing, education, recreation, and others.
Services
Memorial Visitation 4-8 P.M.
Friday, November 04, 2022
06:00 PM

Cappetta's West Suburban Funeral Home & Cremation Services

39 North Cass Avenue

Westmont, Illinois 60559
Donations
No donation details have been given at this time.