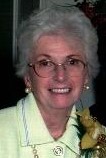 Vivian Estelle (nee Lichner) Rocque born September 28, 1934 in Chicago IL passed quietly on January 21, 2023 surrounded by many generations of her loving family.
Vivian was the daughter of George and Victoria Lichner.  She is survived by her loving and devoted husband Robert E. Rocque of nearly 66 years; sons Gregory Rocque (Paula), Robert A. G. Rocque (Ivona) and daughter Beverly Fewster.  Her grandchildren Brad Rocque (Andrea), Stacey Orcutt (Phillip), Kiley Fewster, Connor Fewster, Alexander Rocque and Robert J. Rocque, sister-in-law Lynne Lichner, many nieces and nephews and she was anticipating the arrival of her two great grandsons later this spring with excitement. Vivian joins her parents George & Victoria Lichner, sister Victoria June (nee Lichner) Venturi, brother-in-law Ben Venturi, and brother George R. Lichner in the Kingdom of God.
Vivian attended Farragut High School, graduating June 25, 1952.  Listed in her yearbook her senior year it is printed Lichner, Vivian "Smily".  Knowing Vivian, she always smiled and brought a smile to the faces of others around her.
Vivian worked at Western Electric as a Teletype Supervisor when she met Bob.  It was love at first sight!  They became engaged three months later and were married on April 13, 1957. They began their married life is a small basement apartment in Berwyn, IL. Shortly thereafter they moved to the western suburbs of Chicago where they raised their three children and she became a stay-at-home mother, keeping busy with her family's lives, with volunteering at the elementary school, scouts and other community opportunities.  She loved golf (getting a Hole-in-one on January 24, 2002), and was always ready and willing to pack their bags for their next adventure.  In 1992 they became seasonal residents in Naples FL, and became full time residents in 2014.  Over the years, Vivian and Bob enjoyed traveling all over the world with their dear friends of 68 years.
She will be missed dearly by many!  She now has entered the Kingdom of God for eternal peace.
In lieu of flowers, the family welcomes donations be made to:
Ronald McDonald House Charities of Southwest Florida at rmhcswfl.org
Shriners Hospital for Children at lovetotherescue.org
Avow Hospice – Naples, FL at avowcares.org
Services
No funeral service details have been given at this time.
Donations
Shriners hospital for Children