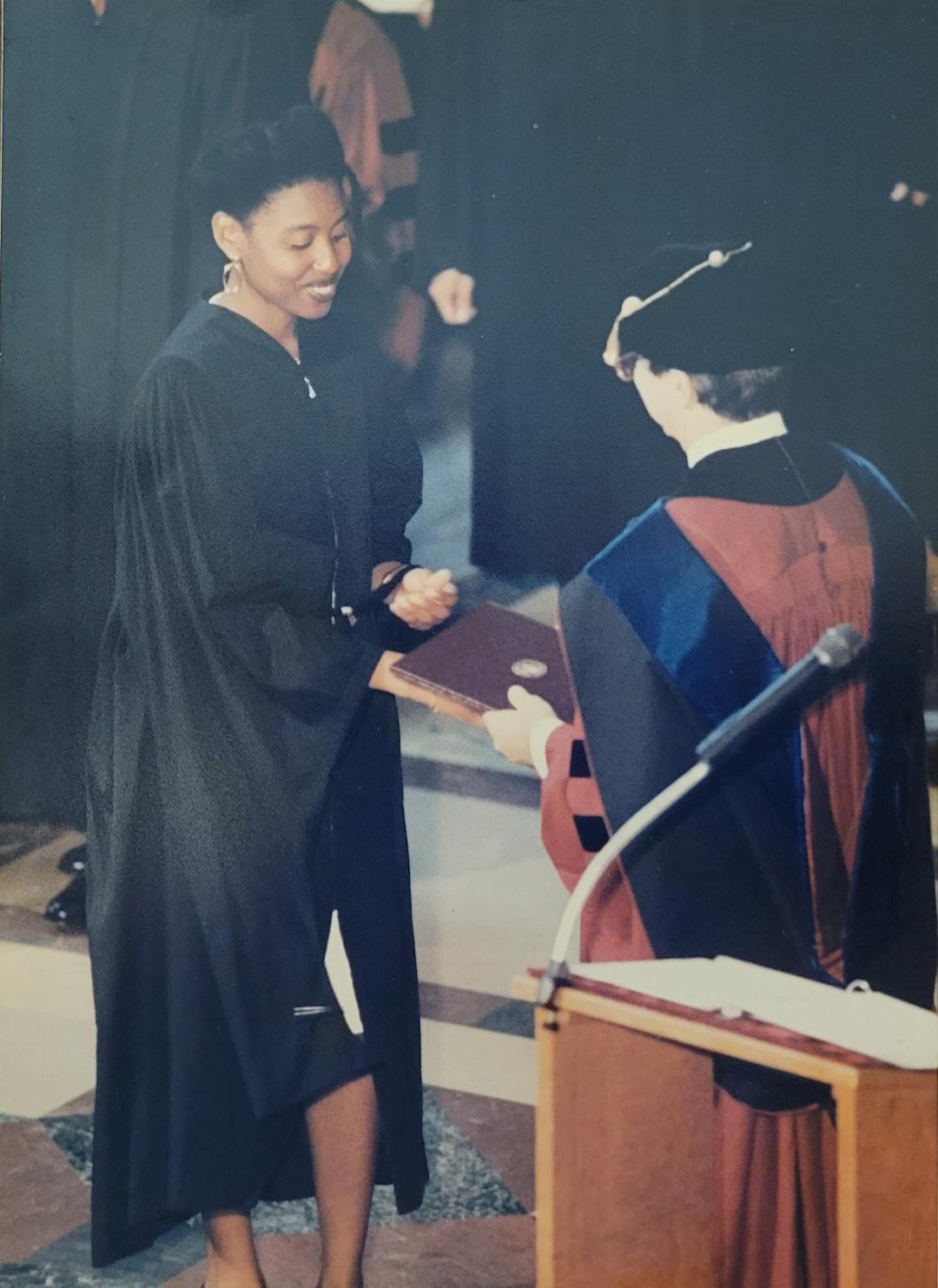 Tiffany Elizabeth Thornton was born on February 19,1974. She died on July 4, 2023. For 49
years she functioned as wise counsel and cheerleader to her sister and brother, often bolstering
their courage or tweaking their ideas.
Tiffany had a bright, ebullient personality with a smile that could light up a room. She was a
true bibliophile, who had read nearly everything. Often, others could rely on her succinct and
complete summarizations to the extent that reading material was no longer necessary after
consulting her. She loved the written word and was a gifted writer. During her senior year of
high school, Tiffany won a seat to a prestigious writing seminar and retreat at BreadLoaf in
Middlebury, VT. Those who knew Tiffany knew she was a woman who pondered words
carefully. During her time as a high school student, she challenged the school's English
department, via a carefully written letter, to expand the reading syllabi to expand beyond the
established canon of white, male authors to include more women and people of color. It was
very forward thinking.
Tiffany also loved music. She studied classical piano seriously and received positive feedback
during her foray into the competitive classical piano circuit in the years before she began high
school. She also had a deep and abiding love for the artist Prince.
After graduating cum laude from Pomfret school in 1991, she went onto University of Chicago,
determined to complete a course of study to put her into medical school. She chose the
university because of its urban location, and proximity to her many aunts and cousins.
Connections she yearned for after feeling cloistered in bucolic Connecticut during her secondary
educational years. During her freshman year at college, she discovered a love and a talent for
swimming. She would often joke that her ease around water was directly because of her zodiac
sign, a Pisces.
After successfully completing her bachelor's and master's degrees in her four years at the
University of Chicago, she developed a program for latch key children and students who were
directly impacted by gun violence in Baltimore city. Tiffany always wanted to improve the living
situation of the creatures around her. She was the first one to notice stray cats in her family's
backyard, and made sure to leave food, because the mother seemed to have more kittens than
she could manage alone.
She fought back against the disease ceaselessly but was finally called home on July 4, 2023
Tiffany is survived by her father William Thornton Jr.; her sister Trudy (Thornton) Fillyaw, her
husband Tyrone, and their children Tamryn, Tanise, and Terrica; her brother Willam Thornton III,
his wife Tonya, and her nephews William, Matthew, and Lucas. She was predeceased by her
mother Eula Thornton.
Tiffany's tenacity and spirit were always admired. She was a selfless being, a true student of the earth, taking care to pass on the lessons she learned to others.
Funeral services will be held Thursday July 13, 2023 at 1 P.M., with Reverend Tellas Jackson presiding, at Cappetta's West Suburban Funeral Home & Cremation Services 4920 Main St., Downers Grove. Visitation at the funeral home Thursday from 10 A.M. till time of services. Interment private. Info 630-852-8000 or westsuburbanfh.com
.
Services
Funeral Services
Thursday, July 13, 2023
01:00 PM

Cappetta's West Suburban Funeral Home & Cremation Services

4920 Main Street

Downers Grove, Illinois 60515
Donations
No donation details have been given at this time.