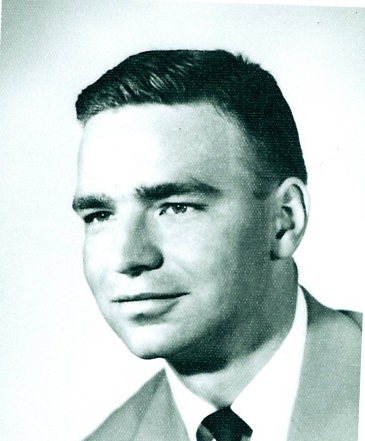 Theodore C. Doege (Ted), 93, passed away on August 22, 2022.  He was a longtime resident of Hinsdale, Illinois.  Ted was born December 11, 1928 in Lincoln, Nebraska to Arthur and Erna Doege. He was the beloved husband of Ann nee Edmondson,  the loving father of Becky (Darren) Doege Lynch and Andrew Doege, a devoted "father and grandfather" of Melissa and Ella Roberts, a dear brother of Karl Doege and Caroline Seyboldt, and a fond uncle of many nieces and nephews.  He was predeceased by sister Esther Pahl and brother Arthur Doege.
Ted received a scholarship to Oberlin College. Because of his interest in trains, following graduation in 1950 he was briefly a railroad gandy dancer.  Drafted into the Army in late 1952, he became a paratrooper in the 82nd Airborne (the first time he flew in a plane, he jumped out of it).  After, he enrolled as a medical student at the University of Rochester School of Medicine. Ted sold his used physiology book to Ann Elizabeth Edmondson, his smart and pretty classmate; they were married in 1957.
He held positions at the Centers for Disease Control, was appointed Visiting Associate Professor at the Faculty of Medicine, Chiang Mai, Thailand, was an Associate Professor in the College of Medicine, University of Illinois at Chicago, and directed the American Medical Association science group responsible for public health issues.
Ted's love of music, writing, and trains were lifelong passions.  He sang in the church choir, was an expert on the American railway, and authored professional and personal writings including his autobiography.
Ted was an active member of Redeemer Lutheran Church in Hinsdale for more than 50 years.
He is now, and will forever be, sorely missed.  Ted was a man that never had an unkind word to say about anyone or anything.  Instead, his words were thoughtful, uplifting and meaningful.  He shared his Dad jokes, his unwavering loyalty to the hometown team, the Bears, and his love of sweets with all in his circle.  He was proud of, and devoted to, his wife, his children, his wider family, his church and his many friends and acquaintances.
A memorial service will be held at a later date.  Donations may be made to Redeemer Lutheran Church, Hinsdale, IL (https://secure.myvanco.com/L-Z4PS/campaign/C-12AHV) or to the Ann and Theodore Doege Merit Scholarship Fund (A06526), which provides merit-based scholarship support for medical students at the School of Medicine and Dentistry. Please make your check payable to the University of Rochester and in the memo include the name of the fund. Please send your donation to: University of Rochester, Office of Gift and Donor Records, 300 East River Road, Box 270032. Rochester, NY 14627. If you'd like to make your gift online, go to:  https://www.rochester.edu/advancement/how-to-give/ .
Arrangements entrusted to Cappetta's West Suburban Funeral Home & Cremation Services, Westmont, IL. Info 630-852-8000 or westsuburbanfh.com
Services
No funeral service details have been given at this time.
Donations
No donation details have been given at this time.