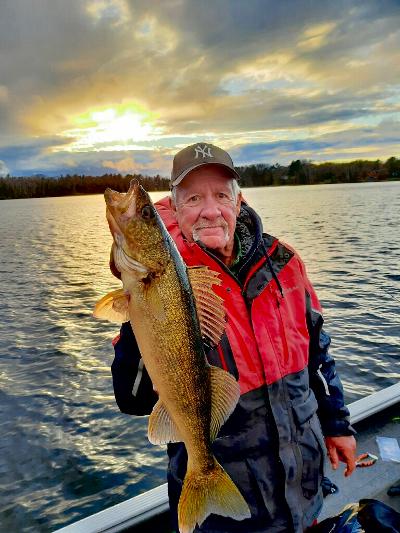 Terrance L. "Terry" Peterson
Fishing Guide and Entrepreneur Terrance (Terry) Lee Peterson passed away unexpectedly on Sunday
February 13, 2022 at the age of 78 in Hayward, WI.
Terry was born June 2, 1943 to Corinne Burke and Wally C. Peterson in Chicago, IL. As a young boy, he
would spend a lot of time at a Chicago Fire House with his father, who was a fireman. Terry's love for
fishing, hunting and outdoor conservation began with fishing and outdoor trips from Chicago to
northern Wisconsin with his Grandfather Thomas Burke in the early 1950's.
Upon graduating from Foreman High School on the Northwest Side of Chicago in 1961, Terry started
working for Motorola. His 17-year career at Motorola started on the plant floor and grew to a Sales and
Engineering liaison position where he traveled the country assisting in product development for
Motorola.
Terry married Diane Klemenz in 1964 and started a family. He was the proud father of daughter Heidi,
and sons, Matthew and Patrick. With a successful corporate career and a young family, Terry did
everything he could to fulfill his passion for fishing. Many weekend and family trips to Wisconsin's
Northwoods would take place. Hayward became the destination of choice during this period.
In 1977, Terry and Diane Peterson made their dream of moving to Hayward a reality by purchasing
Musky Tale Lodge. In 1978, he bought his first fishing guide license. This would be the beginning of a
44-year fishing guide career and life journey. During their years of owning the resort (1977-1990), the
family was blessed to meet many people that would become lifelong friends. The stories and memories
made at the resort have since been and will continue to be the topic of reminiscent conversations for
the entire Peterson family.
After selling Musky Tale Lodge in 1990, Terry started Guide's Choice Tackle Company where he made his
own brand of musky lures called Predator Baits. This would give him time to develop and market new
lure technology which would become a staple of many tackle boxes for the next 18 years. The Predator,
Tek Neek and Scooter were amongst the popular musky lures along with his jigs and bait rigs.
Hayward tourism was heavily involved with muskies. In the early 1990's, Terry would look at promoting
different species of fish over the years. Smallmouth bass was of interest. He slowly started working in
smallmouth trips with his longtime customers. Terry was a promoter of catch and release. By 2018, his
input helped develop new regulations that were created to protect smallmouth bass on several Sawyer
and Bayfield County Lakes.
In 2020, Terry was inducted into the Freshwater Fishing Hall of Fame. He was truly a multi species
master of freshwater fishing. He was quietly one of the longest tenured professional and insightful
guides in the Hayward area. Terry Peterson's life didn't come to an end with his death. Our lives, lakes
and fishing are all better because of the contributions he made.
Terry is proceeded in death by Wife Diane (Klemenz) Peterson; Mother and Father Corinne and Wally C.
Peterson; Grandparents Thomas and Lillian Burke; Father and Mother-in-law Steve and Ruth Klemenz.
He is survived by his three children Heidi (Jim) Donovan, Matthew (Bridgid) Peterson, Patrick (Kristin)
Peterson. Grandchildren Ted, Elizabeth, and Ben Donovan; Gabe and Logan Peterson and Patti Miller;
Samuel and Jackson Peterson. Great Grandchildren; Jade and William Miller; Along with many friends
who have become family over the years.
Terry was laid to rest On February 19, 2022 in a private service at Queen of Heaven Cemetery in Hillside, IL, next to his beloved wife, Diane. In lieu of gifts of condolence, please consider donating to the Ronald McDonald House or St. Jude's Childrens Research Hospital in his honor.
Services
Funeral Services
Saturday, February 19, 2022
12:30 PM

Queen of Heaven Cemetery Interment Chapel

1400 S. Wolf Road

Hillside, Illinois
Donations
No donation details have been given at this time.