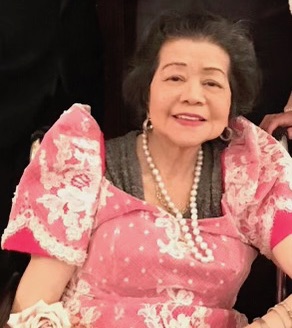 Paz Fortes, 81, passed away peacefully in Naperville, IL on Tuesday November 15, 2022. She was born on July 17, 1941 in the Philippines. On June 6, 1964, Paz married Basilio Fortes. They were married for 58 years before her passing. Paz spent a vast majority of her career as a beloved wife and mother and dedicated registered nurse. As a nurse, Paz was devoted to her profession of helping people. After years of experience as a registered nurse, she began a health care nursing agency business, which reflected her values in helping those in need. She mirrored this helping characteristic as a wife, mother, grandmother, sister, aunt , in-law and friend to many. Paz was a devoted Catholic, who knew and had a relationship with Jesus Christ. Paz will be especially remembered  for her love for her children. She demonstrated unconditional love to her children, that reflected how God, Our Heavenly Father, demonstrates unconditional love to HIs children. Paz was relentless in ensuring her children had what they needed, often at her own expense and well-being. Paz sacrificed for her children indeed – out of love.
Paz is survived by her husband Basilio; children Carlos (Dinah) Fortes, Ferdinand (Lorie) Fortes, Criselda (Allan) Gozum, Audrey (John) Vasquez, James (Sheri) Fortes and Nancy (Tony) Contillo; grandchildren Melissa, Erika and Alexandria Fortes, Dillon and Dean (Katie) Gozum, Jessica Fortes, Ally Gozum, Justin and Andrew Fortes, Zachary Contillo and Carson Fortes.
Visitation Tuesday November 22, 2022 from 3-8 P.M. at Cappetta's West Suburban Funeral Home & Cremation Services 39 N. Cass Ave., Westmont. Funeral Wednesday  9 A.M., with closing prayers at the funeral home, followed by a Funeral Mass at 9:30 A.M. at Holy Trinity Church 111 S. Cass Ave., Westmont. Interment Queen of Heaven Cemetery, Hillside. For further Info 630-852-8000 or westsuburbanfh.com
Services
Funeral Mass
Wednesday, November 23, 2022
09:30 AM

Holy Trinity Church

111. S. Cass Ave

Westmont, Illinois 60559
Donations
No donation details have been given at this time.