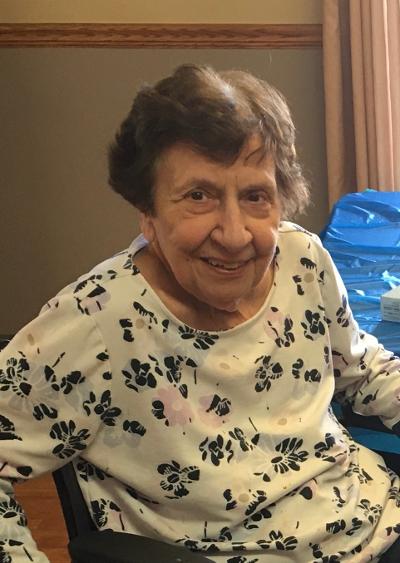 Mildred "Millie"  Patti, 91, of Aurora, formerly of Mayslake Village in Oak Brook. Born March 8, 1930 in Chicago, IL. She was a wonderful and loving daughter of Anthony and Carmella; sister of Mary, Anne and Amelia and aunt, great aunt and great grand aunt of many.
Mildred was one of four daughters. Growing up she helped her parents in their grocery store in Chicago. She then worked downtown in many positions throughout her life. Mildred later moved to Berwyn before retiring.
Aunt Millie, as we called her, was a very proud, independent, and strong person. She dedicated her life to helping and supporting her mother. She was a great role model to all her nieces and nephews. Auntie Millie had a positive outlook and always displayed a loving smile. She was there for you whenever you needed advice, always given in a diplomatic way.
Auntie Millie enjoyed family the most. She also enjoyed tai chi, getting together with family or friends at a restaurant, desserts and always insisted that her coffee was very hot!!
Auntie Millie had a way of playing games with the kids that was in her own style of playing. The memories of this will always be sweetly be remembered; "Baby-Fin" to you in heaven Auntie Millie.
I wish everyone had an Auntie Millie in their lives. I know she made my life better and made me a better person by being in mine. Aunt Millie, I hope you know how much you were loved  and how much you will be missed.
Funeral Mass Friday January 7, 2022 at 10 A.M. at Divine Infant Church 1601 Newcastle, Westchester. Visitation from 9:30 A.M. till time of Funeral Mass. Interment Mt. Carmel Cemetery. Arrangements entrusted to Cappetta's West Suburban Funeral Home & Cremation Services, Westmont. Info 630-852-8000 or www.westsuburbanfh.com
Services
Funeral Mass
Friday, January 07, 2022
10:00 AM

Divine Infant Church

1601 Newcastle Ave.

Westchester, Illinois 60154
Donations
No donation details have been given at this time.