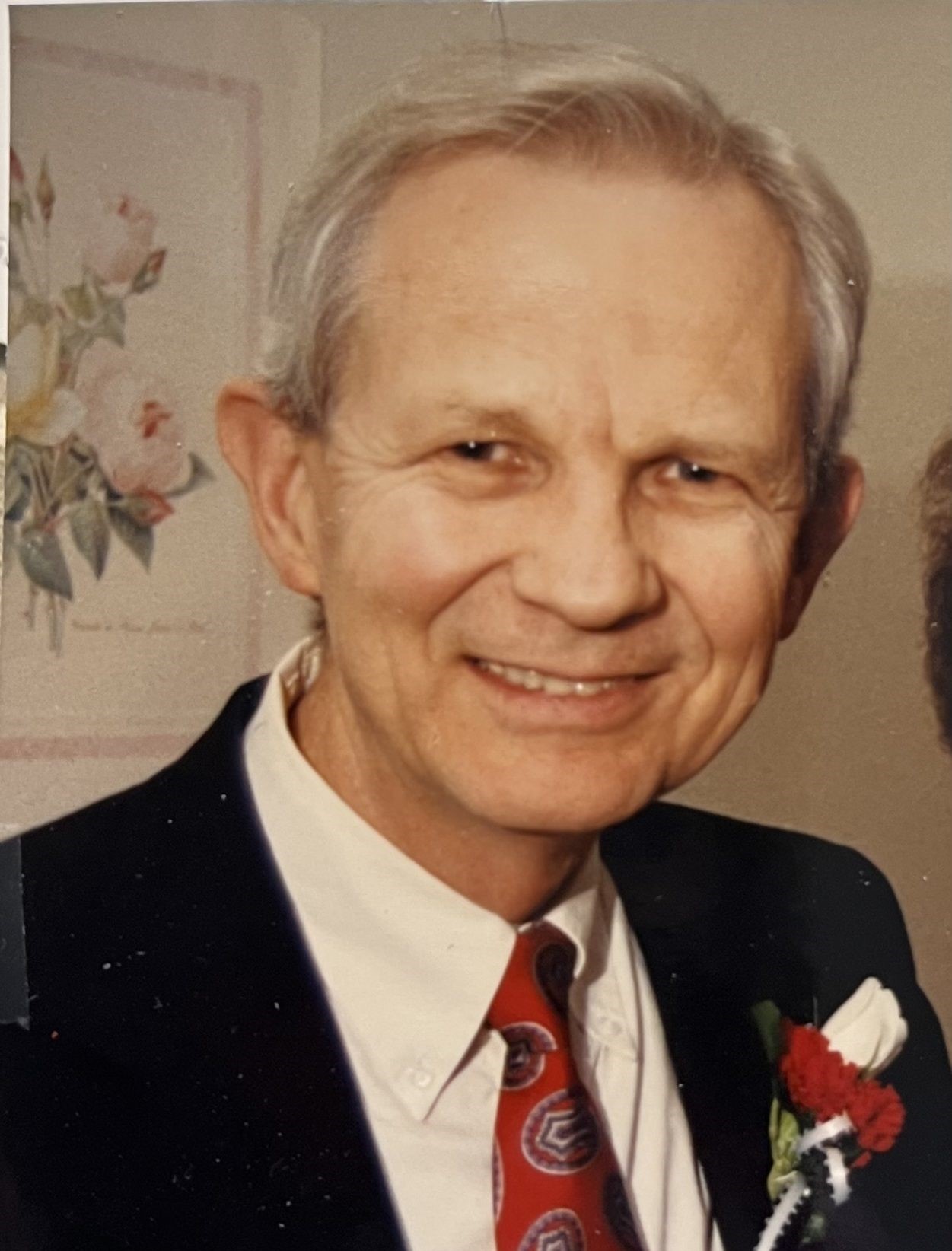 Mario Ruf passed away peacefully Friday night on April 21, 2023.  He had been hit by a car by walking on a crosswalk earlier that day.  Our family met together with him in his hospital room and we all had prayer together.
Mario was born in São Paulo, Brazil in 1929 to wonderful parents G.F.Ruf, a Seventh-day Adventist Pastor and his mother, Esther Dahl Ruf, a Teacher.
Mario spent his toddler years in Brazil until he was 4.  Then his parents moved, along with older sister Clarice and younger sister, Dorthea to Peru.  This is where Mario's family remained as missionaries until they moved to the United States and now added 2 more sisters, Esther and Karen.  This was 1944.
During this time Mario took violin lessons, 2 of his sisters too and trombone lessons and enjoyed singing.
Arriving in the US in Wisconsin, Mario went to Bethel (Wisconsin Academy).  One of his passions, other than cars, was music.  Throughout Academy he was in choir, band and string groups.
In 1947 he graduated from High School and went to College, EMC or Andrews University in Berrien Springs, MI.  Being he enjoyed music he joined the small singing group Collegians and Orchestra and Band.
Then he met Frances Toone and they married in 1952.  And in 1954 they went to Peru to be missionaries until 1959.
Mario was a Seventh-day Adventist Pastor for 25 years.  15 years in Indiana which had nice memories.
Then in 1979, Mario and Fran moved to Hinsdale IL.  Frances was a Nurse.  Mario decided to become a Chaplain.  He was a Chaplain for Hinsdale Hospital, La Grange Hospital and Glen Oaks Hospital for over 20 years.
Frances passed away in 1996.
Mario remarried in 1996 to Tomasa Medina.  And they were together until she passed away recently in August of 2022                                                                                                                                    Mario was almost 94 when he passed and played violin in our Hinsdale SDA Church Orchestra and trombone in the Church Brass group.  He really enjoyed being involved with those music groups and the members.  He still played violin solos and sang with the Men's Chorus also.
He loved driving and a week ago drove up to Janesville, WI to see a friend.  And last Fall drove to see college friends in Lake Superior.  He enjoyed helping us pick up his great grandson William up at school too.  Mario always wanted to help where ever he could.
We mentioned that Mario had a passion for cars too.  He had 50 cars in his lifetime.   He has a notebook on each car and a photo of each one with descriptions.  He enjoyed working on cars also.  Many times on Father's Day we would go as a family to the Oakbrook Antique Car Show.  And also Antique car nights in different towns in the area.  He really liked cars and how they were made.
Mario was a loving husband and father and grandfather.  And was patient and kind and took time for us whenever we needed it.  He was a generous person and a good listener.
I should mention he has a daughter, Yvonne, I'm writing this and a son, Gregg.  Also two lovely step daughters, Sonia and Sandra.
We have always been very proud of dad and if we can try to be like him that would be a great goal.
We know that we will see dad again in that Great Morning when Jesus comes back to take us to heaven with Him and Dad will be healthy and well and a wonderful musician just like he was when we last saw him.  In fact, he'll even be better, that's just how God works. Arrangements entrusted to Cappetta's West Suburban Funeral Home & Cremation Services, Downers Grove and Westmont. Memorial services Saturday June 24, 2023 4:30 P.M. at Hinsdale 7th Day Adventist Church 201 N. Oak St., Hinsdale. Info 630-852-8000 or westsuburbanfh.com
Services
Memorial Services
Saturday, June 24, 2023
04:30 PM

Hinsdale 7th Day Adventist Church

201 N . Oak Street

Hinsdale, Illinois 60521
Donations
No donation details have been given at this time.