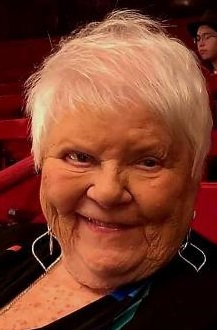 A LIFE WELL LIVED
Lois Berger Siegel was a force of nature. Or as she would say, a "perfect" force of nature
Born June 30, 1929, Lois Loraine was the second daughter of Helen Berger and dimpled baby sister to two-year old Dolores. Feisty from the start, she was gifted with a lovely singing voice and a charming personality that delighted the hearts of her tight-knit family. Lois recalled that, with her mother, sister and her beloved Aunt Alma, she would listen to her surrogate uncles' tales of the Franco-Prussian War. As a child, Lois vowed that she would grow up and travel to those places in the old country and beyond.
The little Berger girls, nicknamed "Ham Berger" and "Cheese Berger" by their childhood schoolmates, grew up with their mom on vegetable farms in both Lisle and Niles Center, now Skokie Ridge, IL. Through the Great Depression, Lois learned to be both resilient and resourceful, determined to use her voice to create a life apart from the rigorous toil of the agricultural lifestyle. Upon graduation from Carl Schurz High School, off to the city she went, singing her way in bars and clubs on Chicago's famous Rush Street and Randolph Street and in famed clubs in Miami Beach. During those years, she developed her glamorous sense of style and a deep appreciation for art, opera and fine jewelry design.
Family meant the world to Lois and she and her sister Dolores were extremely close. When Dolores married Cosmo Ferraro and became a mother of six, Lois was a second mom to her nieces and nephews.  Visits to her home included shopping sprees, fine dining and special treats, IF the children were well behaved, of course. In 1956, Lois married Kenny Knight and although that union didn't last, it did introduce her to the world of banking and finance. Like most women who worked at the Chicago Board of Trade in the 1950s, she did administrative and clerical work, but Lois had a brilliant mind for business and sharp intuition. Never one to suffer fools, those skills served her well in that male-dominated business.
In the Commodities trade industry, Lois' company traded butter, eggs and poultry  futures. Although she never received public recognition as the first woman allowed on the Chicago Mercantile Exchange, she, in fact, was, and in an extraordinary achievement, Lois owned a seat on the CME. Lois could hold her own with any crowd, including the often rough-edged traders on the Floor. She earned their respect by being professional and competent and in turn, they taught her the rules and regulations of the Financial Trade industry. During that time at the Mercantile Exchange, she met two men who would change her life: one would become her future business partner, and the other, James "Jim" Siegel, would become her second husband.
Shortly after marrying Jim Siegel, she moved to his home in Media, PA. Sadly, Jim died less than a year later, and Lois eventually returned to the Chicago area, where she reestablished her career in Finance. She was hired as an office manager at Chicago Grain, which later became Windy City Investments. When asked what she did at her job, Lois would simply say, "Everything."  Within a few years, she parlayed her experience and skills into more of a partnership role than that of an employee. She independently grew her own wealth, another feat most women during the 1950s through the 1980s did not, or could not do. Lois also took this opportunity to fulfill her childhood desire to travel the globe and explore different cultures from Europe to Asia and to the Middle East. Still, she never neglected her family, and when the time came, she readily stepped in to care for both her aging mother and her Aunt Alma.
By the 1980s, their company was thriving, and her business partner invested in the Chicago Bulls. That business decision enabled Lois to discover another passion: Basketball. Lois loved those Bulls and proudly supported them whenever and wherever she could. She'd regularly attend home games in the owner/investor floor seats, dressed in beautiful, glittering outfits because, she once stated, "you always have to have a little bling!" Whenever possible, she generously invited family and friends to join her for a special treat of an NBA court side experience.
Lois' passion for life was exemplified in how she treated family and friends, and her generosity was boundless towards those she loved. She invested in her friends' entrepreneurial efforts. She supported her nieces and nephews' academic and extracurricular projects. A long-time arts patron Lois was a devoted Lyric Opera patron, grand champion of the Ryan Opera Center, and Aria Benefactor. Lois had a deep passion for "her boys" and was a longtime singer sponsor of the Ryan Opera Center – primarily basses and baritones. A love affair began w/a young artist named Christian Van Horn, and they stayed in contact all of his years developing into a global star.  Whether her friends or family needed her wisdom, moral support or a dose of reality, Lois doled it out by the loving spoonful.
She is already deeply missed by her dear sister Dolores Ferraro; nieces Susan Ferraro, Carolyn Ferraro, Helene (Rick) Harlovic and nephews Chris (Angie) Ferraro, Peter Ferraro and Cosmo Ferraro; and great nephews Trinian Donohoe, Matt Harlovic and Peter Harlovic.  She also leaves behind her cousin Virginia, Hammerl, as well as her many other extended family members. lifelong friends Olga Orengo and Eugenia Harvey, and other friends and business associates.
A private interment is planned for October 5th, 2022. We look forward to celebrating Lois Berger Siegel at a later date. Contact the family for details.
Services
No funeral service details have been given at this time.
Donations
No donation details have been given at this time.