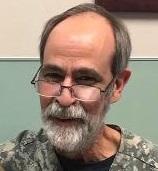 Jeffrey W. Vidt DVM, 67, of Westmont, at rest January 1, 2022. Born March 26, 1954 in Pittsburgh PA to W. Glenn and Josephine (nee Ferrari) Vidt. Jeff, a devoted husband and strong Christian was dearly loved and will be greatly missed by his faithful wife, Linda (nee Bozek); siblings Bob (Pam) Vidt, Sue (Gary) Kostecki, Lori (Steve) Caswell; Uncle Jim (Vicki) Vidt; mother-in-law Loretta (nee Strauss) Bozek; brothers-in-law Bob (Carolyn), Jim (Laura), Michael, Bill, Mark, Tom (Maureen) and John; sisters-in-law Doreen (Tim) Marion, Kim, Lori and Robbie (Phil) Marotta, as well as many cousins, nieces, nephews and his beloved Shar-Pei, Maui and Molly Brown.
Jeff had a life-long love of animals and decided by age 11 that he wanted to be a veterinarian.
After graduating from York High School, Elmhurst, IL, in 1972, he went on to attend the University of Illinois for his undergraduate degree and graduated in the top of his class from the University of Illinois College of  Veterinary Medicine in 1980. During school breaks he volunteered at Downers Grove Animal Medical Clinic where he met his future wife, Linda, whom he married on January 6, 1979. He began his veterinary career at this same clinic in 1980. He then moved to LaGrange Park Pet Hospital and later to Sugar Grove, IL. In 2007 Jeff joined West Suburban Veterinary Associates in Westmont, IL, officially retiring from there in June 2020.
After developing a special interest in the Chinese Shar-Pei breed, Jeff purchase his first Shar-Pei, Shami, in 1983. He was one of the first veterinarians to actively study the unique health characteristics of the breed, and developed a website to furthering this knowledge, which veterinarians worldwide accessed to provide compassionate, quality care for their clients and families. Jeff's Shar-Pei dogs went on to receive  some of the first performance sports titles in the history of the breed, some also serving as therapy dogs. He was actively involved in Chinese Shar-Pei rescue, fostering and re-homing numerous Shar-Pei, many of them finding a forever home with Jeff and Linda.
Jeff's many memberships and honors include the American Animal Hospital Association, the Association of Avian Practitioners, The American Heartworm Society, the Chicago Veterinary Medical Association, the Illinois State Veterinary Association, American Veterinary Medical Association, Chairman of the Health Through Education Committee for the Chinese Shar-Pei Club of America since 1991, Obedience Advisor for the CSPCA and assistant Director of Training for the Lyons Township Dog Training Club, an all-breed AKC Obedience club, the William Morrison Service Award from the CSPCA in 1997 for service to the Shar-Pei fancy and in 2003 a Life Membership for the CSPCA.
In 2015 he began to exhibit some disturbing physical symptoms, and in 2017 received an official diagnosis of Cortical Basal Degeneration, a rare Parkinson's type disease. Jeff was grateful for all the love and support shown to him during this illness. A favorite scripture, one which Jeff relied upon daily, especially during the last several years, was Romans 8:28 "We know that God causes all things to work together for the good of those who love God and are called according to His purpose for them"- The Book. When the progression of the disease began to have an impact on his ability to perform his veterinary work, the West Suburban associates, recognizing his devotion to care for his clients and families, did everything possible to assist Jeff in making possible for him to continue the care he was so passionate about.
as a youth, Jeff was a member of Epiphany Lutheran Church, where he was confirmed. Most recently he attended Avenue Christian Church and West Hills Community Church. Jeff was a strong, committed Christian and a man of great faith. He was actively involved in Men's Bible Study group, service projects and served as a mentor for young children in the Royal Rangers
As a Boy Scout, Jeff attained the rank of Eagle Scout and was later selected for the Order of the Arrow.
Jeff loved spending time with family, friends, and his dogs. He was passionate about training and showing his dogs, as well as teaching others to train their dogs. As a skilled craftsman he enjoyed tackling home improvement projects both indoors and out and was an avid Chicago sports fan.
Jeff's caring bedside manner put many anxious owners and their pets at ease. The pet community has lost a loving and compassionate friend. His servant's heart, educated mind, wry sense of humor and humble demeanor endeared him to all who were privileged to know him.
Visitation will be held on Saturday, January 15, 2022 from 11 A.M.-3 P.M., followed by Funeral Services at 3 P.M. at Avenue Christian Church 5750 Holmes Ave., Clarendon Hills, Il 60514. Arrangements entrusted to Cappetta's West Suburban Funeral Home & Cremation Services, Westmont. Info 630-852-8000 or www.westsuburbanfh.com
In lieu of flowers memorial donations may be made to Community Adult Day Center 4501 Main St., Downers Grove, IL 60515, communityadultdaycenter.org. or Chinese Shar-Pei Rescue Trust 9101 S. 55th St Oak Lawn, IL 60453. Donations of dog/cat food will be accepted at the Church the day of the funeral, before the service, for the People's Resource Center of Westmont, to be given in Jeff's memory.
Services
Visitation with Funeral Service to follow at 3PM
Saturday, January 15, 2022
11:00 AM

Avenue Christian Church

5750 Holmes Ave.

Clarendon Hills, Illinois 60514
Donations
In lieu of flowers see obit