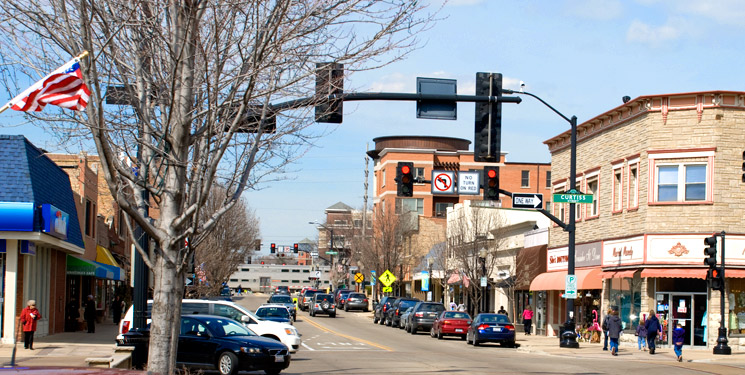 FUNERAL SERVICES NEAR DOWNERS GROVE
Downers Grove, Illinois is located just about 5 minutes from Cappetta's West Suburban Funeral Home and is easily accessible by visitors and guests traveling via automobile or public transportation. West Suburban Funeral Home offers Funeral Services near Downers Grove and other neighboring suburbs.
Downers Grove borders the communities of Oak Brook, Westmont, Darien, Lombard, Woodridge and Lisle and is the home of the Historic and Incredibly Beautiful Oak Hill and Oak Crest Cemeteries. Oak Hill and Oak Crest are technically one cemetery, separated by a fence. Early residents founded Oak Hill in anticipation of limited space at the Downers Grove Cemetery near downtown. The relatively newer Oak Crest Cemetery was founded later. Since its inception, a private cemetery association handled the cemetery's appearance and records. The last members of this association to do so were a couple named Fred and May Marvin. (*Nick Vogel http://www.mysuburbanlife.com/2011/08/31/meet-the-man-who-watches-over-downers-groves-forgotten-cemetery/zi851qc/)
Transportation and Directions
Commuters and tourists can take the train to Cappetta's West Suburban Funeral Home on Metra's commuter rail. Metra's BNSF Railway Line has three stops in Downers Grove at Belmont Road, Main Street, and Fairview Avenue before stoping in downtown Westmont. Interstate Highways 355 and 88 all pass through the community as well as the major surface street US 34-Ogden Avenue, which was also part of the historic Route 66. Downers Grove is served by the Pace Bus Service, a system of suburban public transportation.
The Grove Commuter Shuttle runs four routes throughout the community to two of the three train station that are in the village.
By car, visitors traveling from Downers Grove can take any major through road including Ogden Avenue (US34), Route 88, Maple Avenue, or 55th street east to Cass Avenue.
For additional information about the Village, visit http://www.downers.us
---
[row] [column md="6″] ALSO NEAR BY:
http://www.downers.us
Also Nearby:
First United Methodist Church  
Address: 1032 Maple Ave, Downers Grove, IL 60515
Phone: (630) 968-7120
http://www.dgfumc.org
O'Flaherty Law  
Address: 5002 Main St #201, Downers Grove, IL 60515
Phone: (630) 324-6666
https://www.oflaherty-law.com
Fleur Couture  
Address: 4956 Main St, Downers Grove, IL 60515
Phone: (630) 968-3700
http://www.fleurcouture.net
[/column] [column md="6″]
[/column] [/row]
For more information about Funeral Services in the Downers Grove area contact us.