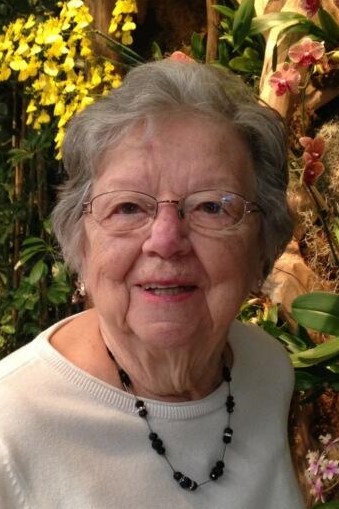 Frances A. "Frania" Sojka, 97, passed peacefully into eternal life on Tuesday, August 15, 2023, with family by her side. Fran was born Frances Kotowicz to Jacob and Frances Kotowicz on July 4, 1926, in Syracuse, New York – the fifth of six children. She graduated in 1947 from St. Joseph's Hospital School of Nursing, Syracuse, and set out on a nearly 40-year career.
She met Raymond H. "Spike" Sojka in grade school at Sacred Heart Catholic School, Syracuse. They later dated, but when Ray didn't propose, Fran headed to California by bus with friends. Ray coaxed Fran to return to Syracuse, they were married on January 27, 1951, and enjoyed fifty-six years of marriage.
Fran was a dedicated nurse who worked in the operating room and nursery at St. Joseph's before the family moved to Lisle, Illinois in 1967. She worked as an industrial nurse at Western Electric (later AT&T) Lisle, Illinois, until she retired in 1988.
Fran and Ray enjoyed lake vacations with their family, and hosted special family trips to Alaska and the Caribbean. Fran treasured the multitude of friends in her life – she always had time for a visit, a phone call, a hug.  She never failed to inquire how the people in your world were doing and peppered you for the latest goings on in your life. Frances was endlessly hospitable, always having a table of goodies for visitors;  M and Ms were a staple.  Fran created a tradition of Christmas cookie baking with her grandchildren, a favorite annual event for more than 30 years.
Fran's sense of hospitality extended to her involvement in ministries at St. Joan of Arc, and it served her well when she moved to Villa St. Benedict in 2012.  There she promptly began monthly dinners with residents on her floor, and became part of VSB's Welcome/Transition Committee, helping others integrate into the community.  Fran loved cards and games with family and friends, and she played bridge with multiple groups, some of which spanned decades.
Fran loved and was loved by everyone and especially her four children and their spouses: Susan Cassa (the late Tony) of Lisle; Sandra (John Lagedrost) of Hinsdale, IL; Raymond (Lynn) of Lisle, and Peter (Elisabeth Stambaugh) of High Point, NC.  She spoiled eleven grandchildren: Stephanie Arena (Tim) of Aurora, IL and Christine Finnin (Richard) of Parker, CO; Sarah, John and Julia Lagedrost of Chicago, IL; Jacob Sojka of Denver, CO and Ben Sojka of Lisle;  Nicholas, Phillip and Margaret Sojka of High Point, NC. Fran was blessed with two great grandchildren: Michael and Connor Arena of Aurora, IL. Fran was preceded in death by her husband Raymond, her granddaughter Joanna Lagedrost, 3 sisters and 2 brothers and their spouses, and grandson-in-law Mark Mahoney.
The Funeral Mass for Frances will be celebrated at St. Joan of Arc Church in Lisle at 11:00 a.m. on Saturday, August 19, 2023, followed by interment at Ss. Peter & Paul Cemetery, Naperville.  Visitation Saturday from 9:00 a.m. until 10:30 a.m. at Cappetta's West Suburban Funeral Home & Cremation Services 4920 Main St., Downers Grove. In lieu of flowers, memorial contributions may be made to Friedreich's Ataxia Research Alliance (FARA) (533 W. Uwchlan Ave, Downingtown, PA 19335  https://www.give.curefa.org/donate);   Misericordia Heart of Mercy of Chicago (6300 N Ridge Ave, Chicago, IL 60660  https://www.misericordia.com/) , or the Autism Science Foundation https://autismsciencefoundation.org.
Services
Funeral Mass
Saturday, August 19, 2023
11:00 AM

St. Joan of Arc Church

820 Division Street

Lisle, Illinois 60532
Donations
Misericordia

6300 N. Ridge Ave

Chicago, Illinois 60660