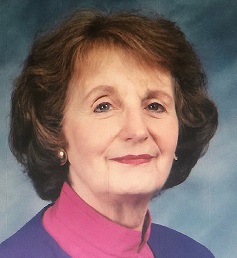 Eileen C. D'Ambrose (nee Conrad), 93, of Lisle, IL, at rest October 27, 2020. Born September 18, 1927. Beloved wife of John R. D'Ambrose.
Eileen married the love of her life John on November 8, 1990. She worked at International Harvester from 1963 to 1981 as a graphic designer.
Eileen is survived by her husband John, stepsons John (Patti), Marty (Lisa) and Francis (Deb), grandchildren Nick (Sara), Kathryn (Brian), John Patrick; Maria, Daniel; Emily (Connor), Erica (Matt), Elaina, and great grandchildren Isabelle, Lucy, Nicholas, Oliver, and Anna.
Eileen also is survived by her cousins Scott (Sherry) Vahldick, Margaret "Marge" (Craig) Chapello, and Herb (Glenda) Vahldick.
She was preceded in death by her father Elmer Conrad, mother Anna (nee Hetzke), and brother Raymond.
Funeral Services (with limited attendance) are Saturday, November 7, 2020, at 11:30 A.M. at Redeemer Lutheran Church, 139 E. First St., Hinsdale. Visitation will be from 11:00-11:30 at the Church. Interment private. Info 630-852-8000 or www.westsuburbanfh.com
Donations in lieu of Flowers:
Villa Saint Benedict Foundation
https://www.villastben.org/foundation/foundation_donation.php
Villa St Benedict Foundation, Attn:Tammy Bruner, 1920 Maple Ave., Lisle, IL 60532
Parkinson's Foundation
https://www.parkinson.org/
Parkinson's Foundation, 200 SE 1st St., Suite 800, Miami, FL 33131
Eileen will be remembered as a most remarkable woman. She grew up in a small family. Elmer, her dad, was a master carpenter and also a pianist with a magical ear. He could play a symphony without musical sheets if he heard it once. Anna, her mom, was a lovely homemaker in their Chicago bungalow. She had a brother Raymond who died at 13 years old from a ruptured appendix. As a result she became the "only child" in her family.
Her first cousin Herbert was also an only child. Herb's mom Eleanore was Elmer's sister. They were very close small families. Eileen stood up in Herb's wedding and became good friends with Herbert's wife Helen. Not having married and not having had children of her own, Eileen became a super aunt and godmother. Eileen loved Herbert & Helen's three children Scott, Margaret & Herb. She took them to events, helped them with swimming skills, and played many games of cards with them. She always kept family events as a priority. We all have pictures of her at family parties and events, such as weddings, showers, baptisms, concerts, birthdays, beach days and so many more.
After high school, Eileen studied art and design at the Art Institute of Chicago and took many classes at Northwestern University and other colleges too. She had many adventures in her life and became a role model to so many. She worked for International Harvester, then the world's leading farm equipment manufacturer, as a commercial artist and designer. She created branding by designing logos, letterheads, catalogs, calendars and every kind of commercial item. From 1963 to 1981, she worked full time, including flying with the top management team all over the country for executive meetings. She was creative, fun, charming, bright and no wonder, they so loved having this beautiful woman on their team.
She was a woman of faith. She was very involved in Lutheran churches and especially the choir. Music was a big part of her home and church. She loved attending Chicago concerts, such as the symphony, Ravinia, and opera.
She dealt with problems head on. She lost her young brother, mom, and then dad. She learned to live alone as an unmarried woman…and did it well. She was on the ill fated Chicago "L" train that fell from the elevated tracks on the cold night of February 4, 1977 and as a result, suffered various injuries along with hundreds of others. She recovered and returned back to work until Harvester failed. She faced her Parkinson's diagnosis with grace. She knew others had it worse. She helped many and cared for all in her path and prayed for them.
Eileen loved to travel and had many adventures in Europe, Africa, Canada, as well as around the USA. Frequently, she would make time during these trips to find a new addition to her eclectic scarf, jewelry and bird collections.
She loved, loved, loved John, her sweet husband of nearly 30 years. She taught us that we are never too old to be surprised…and that the best love can be just around the corner. In her 60s, she took on temp jobs. How remarkable that a dissolution of her long-term employer allowed her to try minor temp jobs, would ultimately lead her to the finding of True Love: she met John at Moore Corporation. And at 63, she married John, the special man she waited her whole life for.
Together, they enjoyed all that life could offer: concerts, travel, and watching "Antiques Road Show" & "Keeping Up Appearances" on PBS. More than that, she inherited a wonderful family: three sons (John, Martin and Francis), three daughters in law (Patti, Lisa and Debbie), and eight grandkids (Nick, Kathryn, John Patrick; Maria, Daniel; Emily, Erica, Elaina) as well as five great grandchildren (Isabelle, Lucy, Nick Jr., Oliver, and Anna)! She would pinch herself for such unexpected blessings that came her way as a result of this marriage. Her heart expanded again as she loved each of them and of course, they came to love her too. She had unexpectedly become a wife, mother, mother in law, grandmother and eventually a great grandmother to many. Eileen loved spending the Holidays with her new and ever growing family. She always had the perfectly themed jello mold for the occasion! She thoroughly enjoyed spending quality time with each at the "family summer vacation" at Marge and Craig's beach house in Michigan City.
We will miss you dearest Eileen. You taught us well and we won't ever forget you.
Services
Funeral Services
Saturday, November 07, 2020
11:30 AM

Redeemer Lutheran Church

139 E. First St.

Hinsdale, Illinois 60521
Donations
No donation details have been given at this time.