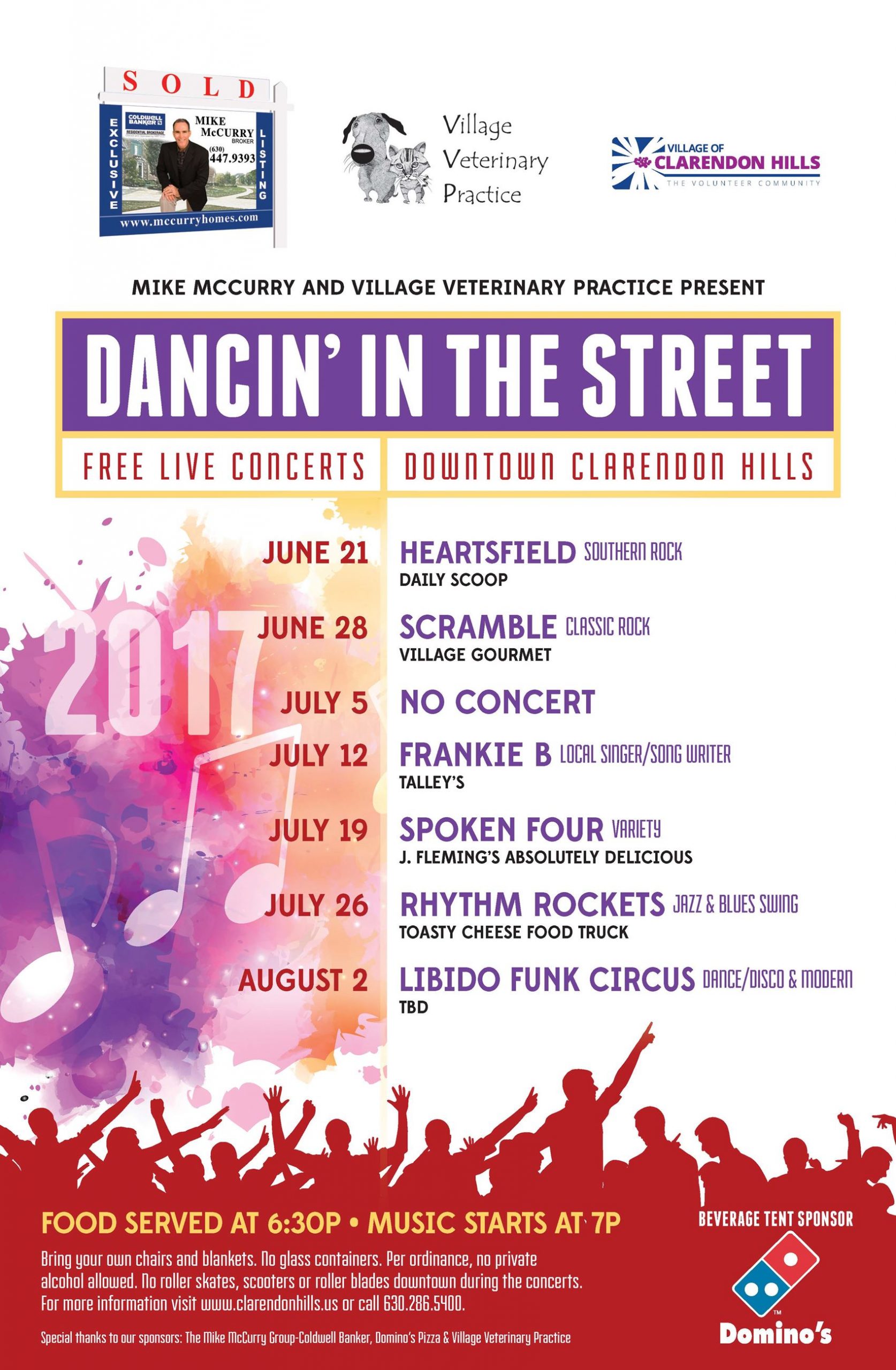 CLARENDON HILLS DANCIN IN THE STREET
Clarendon Hills Dancin in the Street is a concert series held annually by the Village of Clarendon Hills. The concert series runs in the downtown area on Wednesdays for six weeks beginning mid June to mid July each year. Food and beverages will also be available for purchase. Each week food will be provided by different restaurants each week. The beverage tent will be manned by our Special Events Committee Volunteers serving beer and wine.
Food and beverages will be available starting at 6:30 p.m. with music kicking off at 7 p.m.
Each year the concert series serves as a community gathering place where families can enjoy the summer and catch up with friends and neighbors. The event, which takes place on Prospect Avenue in downtown Clarendon Hills, also showcases many of the downtown businesses to residents and visitors.
DIRECTIONS TO CAPPETTA'S WEST SURBURBAN FUNERAL HOME:
Founded in 2010, Cappetta's West Suburban Funeral Home and Cremation Services is located in middle of Downtown Westmont. Funeral Service attendees can reach West Suburban Funeral Home easily via automobile or public transportation. Those looking for public transportation can take the bus or train using Metra's BNSF Railway Station with a stops located in both Downtown Clarendon Hills and also Downtown Westmont just blocks away from the Funeral Home offering daily service between Chicago and Aurora, with additional stations in Naperville, Downers Grove, Lisle, and Brookfield. A train schedule is available at https://metrarail.com/maps-schedules/train-lines/BNSF/stations/CLARNDNHIL. Cappetta's West Suburban Funeral offers an onsite parking lot and can also find parking in nearby municipal parking lots and street parking. The most direct route from to West Suburban Funeral Home from the village center of Clarendon Hills is to take Burlington Avenue approximately 1.1 miles west to Ogden Avenue (US34) to Cass Avenue and turn right (north) and the funeral home will be located on the left (east) side of Cass Avenue.
For more information regarding funeral services available near by, visit WestSuburbanfh.com
Also near by:
Metra Station (train/buss access):
1 South Prospect Ave
Clarendon Hills, Illinois 60514 Contact
630-323-1877
https://metrarail.com/maps-schedules/train-lines/BNSF/stations/CLARNDNHIL